Some quick tips for Office Sanitization ( Follow this to prepare well)
As the lockdown eases, and life inches back to the new normal, we endeavour to offer simple steps to office sanitization. As we are based in India it is best to understand sanitization meaning in Hindi. It means
साफ़ सुथरा बनाना. In simple terms Sanitizing is meant to reduce, not kill, the occurrence and growth of microorganisms such as bacteria, viruses and fungi. Disinfecting a surface will "kill" the microscopic organisms as claimed on the label of a particular product depending on the contact time. So most of us want to disinfect in these times though we use the word sanitization services interchangeably with disinfection services
There are a few low cost measures which employers should take into consideration irrespective of where COVID-19 has arrived in the communities or areas that they operate in.
WHO recommends that
The office sanitization should be done
Ensure that when you have reopened the facilities you have done the office sanitization using a ULV machine and sprayed disinfectants in the entire office followed by a round of deep cleaning. The use of UV ( Ultra Violet ) lamps to disinfect the areas is also gaining rapid acceptance especially in areas which as large offices. These are not standalone process for cleaning but they do provide a higher level of decontamination or disinfection as compared to manual processes.
High touch surfaces such as desks, handles, knobs, telephones, keyboards are wiped with surface disinfectants regularly. This is because one of the ways COVID-19 spreads rapidly is through contamination of surfaces touched by employees and customers.
Promote Good Hygiene for office sanitization
Ensure that at all points you do not leave any chance for the virus to exist
At the entry points have disinfection mats which will prevent you from carrying the COVID-19 virus in your soles. Some studies have shown that the virus exists for over 24 hours in rubber soles.
Have non-contact disinfectant which will ensure you are able to disinfect your hands such as automatic sanitizer dispenser or a foot operated hand sanitizer.
Have a UV disinfection box to disinfect small stuff like your bags, mobile phones, car keys etc. Not only are they extremely likely to carry the COVID-19 virus , they can very easily contaminate the desks or high contact points. They are extremely accessible to the hands and faces.
Put hand sanitizers in prominent places in the workplace
Display posters in areas emphasizing on hand washing with soap and water. It is the most effective way to eliminate the COVID-19 virus from your hands and have office sanitization.
Ensure that there are adequate number of Face masks and tissue paper for employees and guest. Also ensure there are closed bins to dispose off these masks and paper tissues.
Have social markers in the office in canteens and walkways showing areas to stand. They should be 6 feet away from each other. Ensure that the same is done in washrooms also.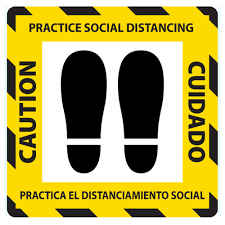 Avoid face to face meetings
It is best to have meeting over video calls and unless absolutely necessary it is best to avoid in person meetings
When there is no option but to have face to face meetings, we should maintain social distance.
Say hello without shaking hands or having any form of contact.
Start the meeting with a wipe down of the desk with alcohol based disinfectant rub.
Encourage everyone to cover their faces with the bend of their arms or with tissues if they are sneezing.
Retain the name and contact details of all people attending the meeting for at least a month so that public authorities can trace people who were exposed to COVID-19 should any participant fall sick shortly after the meeting.
End of the day activity
Ensure that the high contact points are repeatedly wiped
down
After the end of the day the janitorial or housekeeping staff in the office should repeat the process they did at the start of the office. Either fogging using a ULV machine or disinfection using UV machine should be done before closure.
The employees after reaching home should give their clothes for washing immediately as well as take a quick shower to ensure they are getting rid of COVID-19 virus