Window Cleaning Service, The Best In Bangalore
Thorough cleaning of all types of windows
Both Residential and commercial services
Customized cleaning plans
Professional-grade window cleaning solutions
Are your windows looking dull and dingy, obstructing your beautiful view?
Restore the sparkle and shine to your home or business with Clean Fanatics, the best window cleaning services near you! Window cleaning comes with bevy challenges, such as streaks, salt-water and hard-water stains, window channel and corner areas, and safety concerns.
From us, you get a thorough and high-quality window cleaning services that addresses these concerns effectively. With the use of the latest equipment and techniques, you're left with windows not only clean but also streak-free and sparkling.
What's included in Clean Fanatics Window Cleaning?
With Clean Fanatics professional window cleaning services, you can experience a comprehensive approach to cleaning your windows. The service you get includes:
Thorough dusting of window sills and blinds
Cleaning of shutters to provide a full, unobstructed view of the outside
Priority cleaning of window channels for smooth sliding
Use of specialized chemicals and a microfiber duster for loose debris removal
Scrubbing of the whole window to remove hard water stains
Advanced tools used to tackle any type of window, including modern commercial or residential windows and vintage-style ones
Trust us to provide you with the best window cleaning service in Bangalore that will leave your windows sparkling and your view crystal-clear.
Why Choose Clean fanatics For Window Cleaning?
Let our service enhance the curb appeal of your property with sparkling clean windows!

Impress your guests and clients with a building that looks well-maintained and professional

Protect your investment and save money in the long run by preventing damage to your windows

Boost your mood and productivity with more natural light streaming in through your freshly cleaned windows

Enjoy unobstructed, stunning views of the outdoors without unsightly dirt and smudges

Breathe easy knowing that your indoor air quality has been improved by our thorough window cleaning services

So why settle for an average cleaning service when you can have the leading window cleaning services near you? Choose Clean Fanatics for a cleaning experience that will exceed your expectations every time.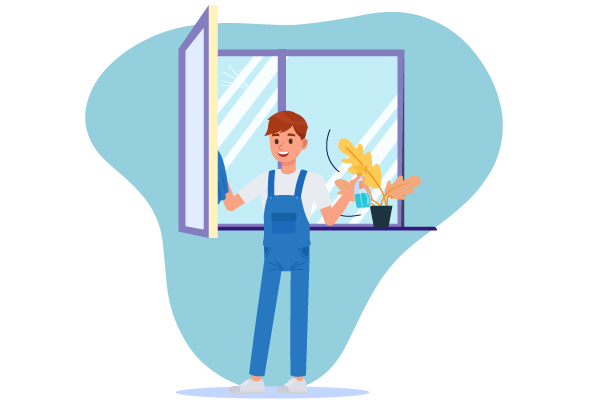 Frequently Asked Questions
Will you clean grilled windows?
Yes, we do clean grilled windows. Our team is the most equipped home window washers near you. We engage necessary tools and techniques to clean windows with grilles effectively. But it may take little longer than usual.
Can I get 100% cleaning in grilled windows?
While we strive to provide thorough and high-quality cleaning, it may not be possible to achieve 100% cleaning in windows with grilles. However, our team will do their best to ensure that your windows are cleaned to the highest standards possible.
What is included in window cleaning?
Our window cleaning service includes cleaning the glass, frames, sills, and tracks of your windows. We also remove any debris, cobwebs, or dust from the area around the windows.
My apartment/house is beyond 2nd floor, can the window cleaning happen properly?
Yes, we have experience in cleaning windows in houses beyond the 2nd floor. But beyond 2nd floor, only reachable aread of your windows will be taken care of, which usually covers 90% of your window area.Our team of residential window cleaning service uses specialized equipment and follows strict safety protocols to ensure that the job is done safely and effectively. Please let us know about your specific requirements, and we will do our best to accommodate your needs.
Our Other Professional Services Include: