General Pests Control Services, The Best in Bangalore
Thorough inspections to identify infested areas
Effective Pest Elimination
Trained and licensed professionals
Customized pest control plan
Are pests making your life miserable? Don't let them!
Avail our General pest control service near you, and with our skilled team of experts and advanced equipment and techniques, we will eliminate all pesky insects and creepy crawlies from your place.
Say goodbye creepy crawlies with our effective and best pest control services in Bangalores. Let us take care of your pest problems so that you can have peace of mind knowing that your space is safe and hygienic.
What infestations will be treated in our General Pest Control treatment?
Cockroaches, Mosquitoes, House flies, and Crawling insects

What's included in General Pest Control?
Win back your home with our powerful general pest control service that eradicates every creepy crawly in sight.

In our service, you get:
Inspection: Thorough Inspection is done in areas like kitchen, garbage collection areas and drain pipes. Inspection also to be done based on the surrounding building. Look for stagnant water and breeding sources.
Treatment: Wall to wall spray treatment for the internal areas. Spray treatment will done in kitchen and all the drains and wash rooms. Gelling will be done for all cupboards in the house.
Follow-up visits: It will be done at the request of the customer. It is recommended to have pest control done every 3 months
Don't wait for the bugs to take over your home. Book our best Pest Control Service today and say goodbye to creepy crawlies forever!
Note:
Our Pest Control Services does not involve the removal of items from your cupboards, wardrobes, or storage spaces.
Pest Control: Maintenance Tips
Make sure food particles are not left outside openly during night times .

Closed containers bins are used for wet garbage Mopping the kitchen after the day ends with Dettol.

Cleaning of Racks and re racking the materials every 15 days in kitchen cupboards.

Maintain clean drainage system of building.
Why Choose Clean Fanatics General Pest Control?
Clean Fanatics Pest Control services will help you maintain a healthy and safe environment in homes, businesses, and public areas

We recommend pest control services to protect property and infrastructure from damage caused by pests, such as termites and carpenter ants
Effective pest control measures, that you get from us, can improve overall quality of life by reducing the stress and inconvenience that come with pest infestations
Regular pest control services can save money in the long run by preventing costly damage and reducing the need for expensive pest remediation measures
We take great care to use products and techniques that are safe for humans and pets
So why settle for an average pest control service when you can have the leading pest control services near you? Choose Clean Fanatics for a pest control services that will exceed your expectations every time.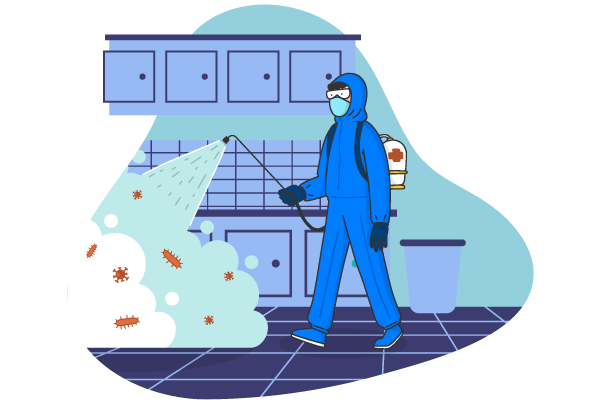 Frequently Asked Questions
What are the common pests occurring in household situation?
Common pests that occur in households include cockroaches, ants, termites, bed bugs, mosquitoes, rodents, and spiders.
There will be a less noticeable odour for an hour.
What will happen if we consume small amount of chemical by mistake?
These chemicals are formulated to effectively target and control pests but can be harmful if ingested by humans and pets. We recommended to seek medical assistance right away.
How do I find and hire the best pest control experts?
You can find and hire the best pest control services in Bangalore by doing research online, reading reviews and ratings, checking their certifications and licenses, asking for recommendations from friends or family, and comparing quotes and services from different pest control companies. Clean fanatics can be your first choice as it is the best pest control services in bangalore.
Should we hire pest control professionals or it can be done by ourselves?
While some minor pest control can be done by homeowners, it is often best to hire pest control professionals like clean fanatics for more serious pest control treatment or for prevention. Clean fanatics have the knowledge, experience, and equipment for the best pest control to effectively eliminate pests and prevent future infestations.
What all the pest control treatment includes?
Professional pest control treatment can include inspection, identification of pests, choosing the best method of control, applying pesticides or other control methods, and follow-up visits to ensure that the treatment was effective.
Yes, inspection is necessary for home pest control services to identify the pests present, the extent of the infestation, and the best method of pest control service. Inspection also helps to prevent future infestations by identifying and addressing the root cause of the problem.
Our Other Services Include: