House Painting Services in Bangalore, The Best!
Professional House Painting services in Bangalore
At Clean Fanatics, house painting services, we believe that a fresh coat of paint has the power to breathe life into any space. Whether it's your cherished home, or a bustling office, our team of skilled painters is here to turn your vision into reality. With years of experience and a passion for perfection, we offer a comprehensive range of painting services, including interior painting, exterior painting, waterproofing, and grouting, all tailored to meet your specific needs.
See Our Professional Painting Jobs in Action
Experience the joy of a professionally painted space that captivates and inspires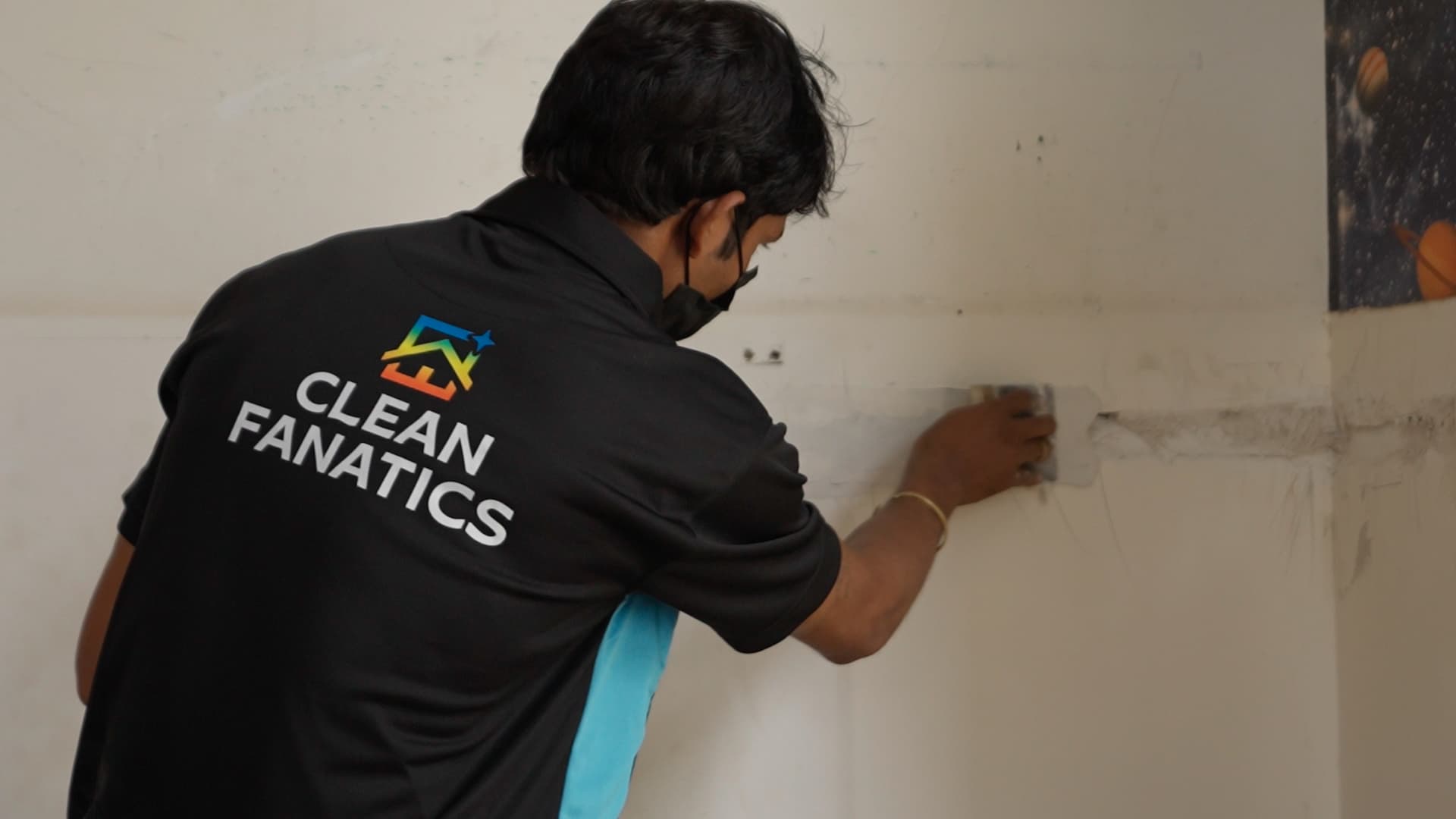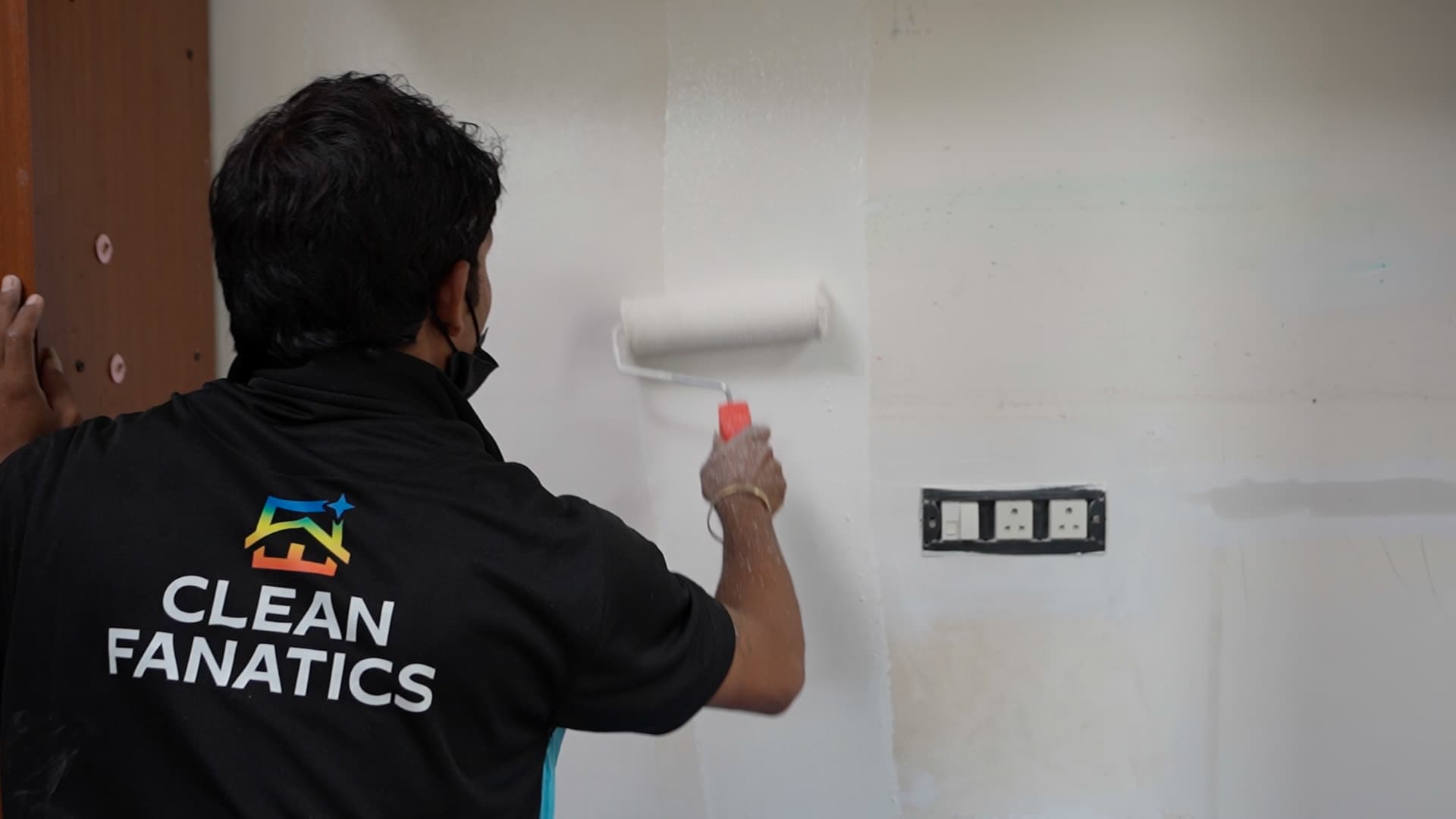 Why Choose
Clean Fanatics?
11 years of track record in professional and premium cleaning and painting services in Bangalore
High customer ratings (4.9/5 on Google). The most preferred professional services company in Bengaluru
Top-notch training of personnel with background checks, and random audits to ensure partners are legitimate and efficient
Use of state-of-the-art German cleaning equipment, and UV treatment for disinfecting and providing consistent quality
Personalised attention is given to customers. Every feedback is taken into account, and are acted upon immediately
Transparent pricing and easy booking with reliable customer service
What do our customers say? #customertalk #theyInspireus
Don't Just Take Our Word for It – Watch Real Clients Share Their Clean Fanatics Experience
Transform your space with the expertise and artistry of Clean Fanatics professional painting services in Bangalore.
From meticulous surface preparation to the final brushstroke, we go above and beyond to ensure a smooth, durable, and beautiful finish.
In addition to our painting prowess, we also specialize in waterproofing and grouting services. Protect your walls from moisture, prevent leaks, and keep your tiles looking pristine with our professional solutions.
Whether you're revamping your living room, refreshing your home's facade, or adding a protective layer to your exterior surfaces, we've got the expertise to handle it all.
Why Choose Clean Fanatics Professional Painting Services?
At Clean Fanatics, we take pride in our ability to transform your interiors and exteriors with our exceptional painting services. But that's not all! We go beyond painting to offer you top-of-the-line waterproofing and grouting solutions, ensuring your property remains both beautiful and safeguarded.
Our team consists of highly skilled and experienced painting professionals who have mastered the art of painting. With years of expertise under their belts, we possess the knowledge and expertise to tackle any painting project with confidence and proficiency.
Painting is just the beginning! We offer an array of services to meet all your needs, including interior painting to revamp your living spaces, exterior painting to enhance your property's curb appeal, waterproofing to protect against the elements, and grouting to maintain and restore the beauty of your tiled areas.
At Clean Fanatics, we understand that your space is an expression of your personality and style. Our goal is to enhance its beauty, protect its integrity, and provide you with an experience that surpasses your expectations.
Customer satisfaction is at the heart of everything we do. We strive to exceed expectations and go the extra mile to ensure that our clients are delighted with our services. Your happiness is our ultimate goal.
Frequently Asked Questions
Why Choose Clean Fanatics versus other Local painters?
Choose Clean Fanatics for your painting needs because we deliver exceptional quality, personalized service, and customer satisfaction. Our skilled team, attention to detail, and competitive pricing set us apart from other local painters. Experience our professionalism, reliability, and commitment to excellence. Trust Clean Fanatics to transform your space with precision and expertise.
What types of painting services do you offer?
Clean fanatics offer a wide range of professional painting services, including interior painting, exterior painting, Texture Painting, Wall Ceiling, Grouting and Waterproofing. Our skilled painters are equipped to handle projects of all sizes and scope
How long will the painting project take?
The duration of a painting project depends on various factors, including the size of the area, the complexity of the project, and any additional preparations or repairs required. We provide estimated timelines during the initial consultation and strive to complete projects efficiently without compromising on quality.
Are your painters experienced and trained?
Yes, Clean Fanatics painters are experienced professionals who have undergone training in various painting techniques and safety protocols. They have the expertise to deliver high-quality results and ensure customer satisfaction.
How do I request a painting estimate?
You can request a painting estimate by filling out the details after clicking the Book your inspection button. You can also contact us by phone, email, or our contact form. Our team will arrange a convenient time to visit your property, assess the scope of work, and provide you with a detailed estimate.
Do you clean up after completing the painting job?
Absolutely! Clean Fanatics take pride in our professionalism, which includes leaving your space clean and tidy once the painting project is finished. Our team will properly dispose of any debris, paint cans, and protect your belongings throughout the process.
What are the signs that my property needs waterproofing?
Look out for signs like water stains, mold growth, musty odors, peeling paint, or visible cracks on walls and floors. If you notice any of these signs, it's crucial to get a professional assessment and consider waterproofing to address potential issues.
Can waterproofing and grouting be done together?
Yes, waterproofing and grouting often go hand in hand. Waterproofing ensures the protection of the underlying structures, while grouting enhances the water-resistant properties of tiled areas. Combining both services can offer comprehensive protection for your property.
Our Other Services Include