2 Bathroom + 1 Kitchen Cleaning, Combo Offer
At Clean Fanatics, we understand the importance of a clean and well-maintained home. Your bathroom and kitchen are two areas that deserve special attention, as they play a crucial role in your daily life. Clean Fanatics made more convenient and cost-effective way to keep these essential spaces sparkling clean. 
That's why we're thrilled to introduce our Exclusive Combo Offer, designed to make your life easier and your home cleaner.
COMBO DEAL: 2 Bathrooms + 1 Kitchen = Spotless Elegance
🔥 Special Combo Price:

Rs.3700

Rs.3500 🔥
Original Price Without Combo: Rs. 3700

✅ Total Savings: Rs. 200!
What's included in Bathroom and kitchen Cleaning Combo Offer ?
Our comprehensive Combo Offer covers all the essential tasks for 2 bathroom and a kitchen
Object Removal Before Cleaning: Removal of toiletries and other objects from the bathroom
Superior Stain Removal: Removal of dirt & hard stains from the corners, objects, appliances
Cleaning of all areas & surfaces: Removal of dirt from bathtub, shower, cabinet, floor, shelves, wall, ceiling & high touch surface
Cleaning of hard to reach spots: Removal of dirt & hard stains from top of the geyser, behind the toilet pot, etc.
Floor Deep Cleaning: Removal of all dirt, Deposits, Hard water stains using a hand scrubbing machine
Disinfection: Doing ultraviolet (UV) treatment on the floor for disinfecting the bathroom with bacteria
Finishing touch: Drying up the bathroom with multi-fiber cloth, restocking objects
At Clean Fanatics, you get exemplary kitchen cleaning services in Bangalore for your home kitchen, which include:
Removal of grime from the top, such as shelf tops and chimney pipes
Kitchen exhaust fan cleaning service
Kitchen chimney cleaning, including baffles
Kitchen-top scrubbing, stain, and grease removal
Kitchen wall scrubbing
Kitchen cabinet cleaning – inside (only if shelves have been emptied) and out
Kitchen cabinet polishing with wood cleaning and de-greasing solutions
Window mesh and channel cleaning
Kitchen floor cleaning with acid-based cleaners
Vertical tiles, sinks, and taps
Kitchen floor is scrubbed using a hand scrubing machine
Why Choose Clean Fanatics Bathroom + Kitchen Combo Offer?
With the combo offer, both critical areas of your home are addressed simultaneously. This ensures that you get a uniformly cleaned and sanitized living space.
By choosing the combo deal, you save a substantial Rs. 500. It's always smarter to bundle services and reap the financial benefits.
Instead of scheduling separate cleaning sessions, the combo offer ensures both your kitchen and bathrooms are cleaned in one consolidated appointment. This is especially beneficial for those with tight schedules.
Clean Fanatics takes pride in offering a consistent cleaning standard. By opting for a combo, you're guaranteed the same high level of service across both areas.
Bathrooms and kitchens are the primary breeding grounds for germs in most homes. The combo offer ensures thorough cleaning, reducing the risk of illnesses and infections.
By choosing the combo, the booking process is simplified. One booking, one payment, and one team to handle it all.
So why settle for an average cleaning service when you can have the leading  cleaning services near you? Choose Clean Fanatics for a cleaning experience that will exceed your expectations every time.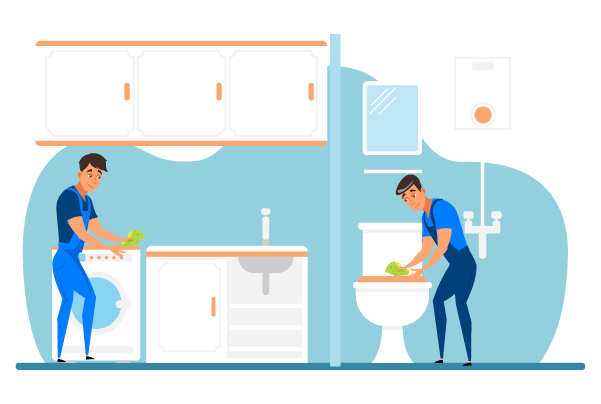 Frequently Asked Questions
What is the Clean Fanatics Kitchen and Bathroom Combo Offer?
The combo offer includes a comprehensive cleaning service of 2 bathroom and a kitchen at a bundled, discounted price.
How much do I save with the combo offer?
With our combo offer, you save Rs. 500 compared to booking the bathroom and kitchen cleaning services separately.
Can I add additional services to my combo offer?
Yes, you can book additional services. These will be charged separately, based on our standard rates
How do I book the combo offer?
You can book our combo offer through our website, or by giving us a call or WhatsApp on +91 8722272777. Our customer service team is always ready to assist you.
Our Other Services Include: