Why Do We Need Professional Cleaning Services For Houses?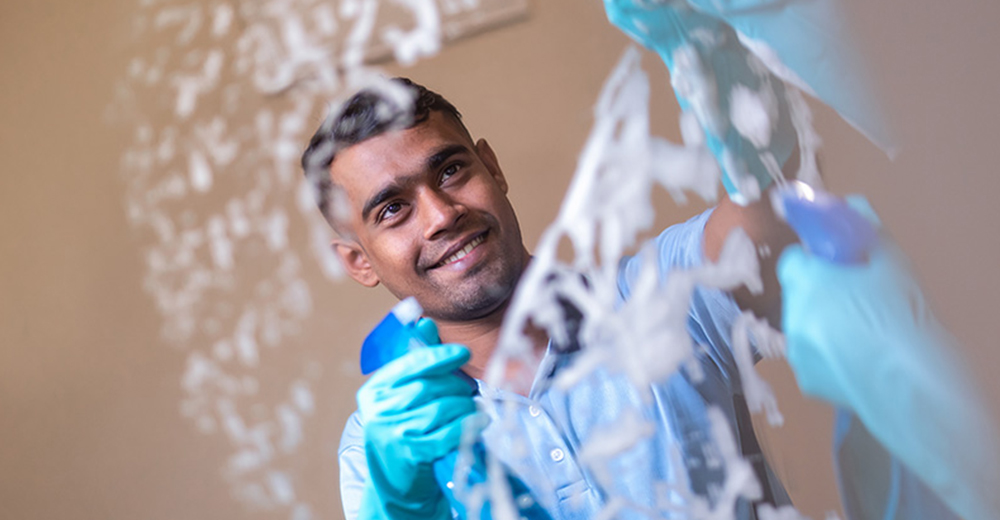 How difficult is it to clean the house yourself?
Do you really think you require a group of professionals to clean the house? Yes we bet you do. 
However motivated you are, however much time you spend on getting the work done , you may not get the desired results as group of committed professionals can do.
Our research shows that we can accomplish 10 times the cleaning as compared the a cleaning done by the residents themselves that too within a day. That is why you require a deep cleaning services.
How Does A Professional Deep Cleaning Company Help?
We have a tried and tested cleaning system in place . This ensures that we arrive well prepared to your home, do the relevant cleaning as per the requirements, use the correct machinery as well as right chemicals to provide you with the cleaning required. Let us expand this further
Our crew of professional cleaners are well trained in our work.
We are equipped with right industry grade chemicals.
We are equipped with right machinery such as vacuum cleaners, floor scrubbing machinery, tools and tackles. We even carry our ladders with us to your home for deep cleaning services.
We carry detailed checklists for each room and follow a detailed sequence so that the work in completed in an orderly manner without leaving any area uncleaned.
There Are Many Occasions When You look For Deep Cleaning Services
When you are having guest come over to your house
When guest come over, they expect to see a sparkling clean house. No host likes to entertain guests in a dirty house and that is why you require professional deep cleaning services in Bangalore to give a deep clean to your Kitchen, Bathrooms, Windows, Floors as well as Upholstery and Mattress. That is why you need to hire the best home deep cleaning services in Bangalore.
When you are moving into a new house
The best thing is to hire a professional cleaning company which can clean up before you move in. The deep cleaning professionals will be able to clean all the nooks and corners of the house. They will clean up the used-up areas such as bathrooms (deep cleaning of the bathrooms), clean the Kitchen cabinets, clean the chimney, scrub the vertical walls and scrub the floor. We also clean the windows, especially the channels on which dust and grime settles. The floors are scrubbed using a single disc scrubbing machine. Do feel free to call us our WhatsApp us for more details.
When you are leaving your Rental House
It is always a good courtesy to leave the house spic and span when you are handing it over to the home owner . It will be useful to the new tenants as well as the home owner that the previous tenants employed deep cleaning experts to clean after they left. It reduces any post tenancy fights as well as it is easier to claim the deposits once the keys are handed over.
 Festivals especially such as Diwali, Ugadi, Dasara or Holi are a great time to take stock of the clutter in the house as well as clean up the house so that friends, relatives and guests come in for a gala time in a clean and live able house. However, these are also periods of high rush in the cities and it is better to plan for the cleaning activities in advance.
Pets Making the House Dirty
Pets in the house are also responsible for making the house dirty. However adorable pets are, the furs do make the house and upholstery dirty. They are also the reason for allergies within the households. As a result, it is better to search for deep cleaning services and opt for a reputed and well rated cleaning service.
Spring Cleaning services also help as the house and residents adapt to the changing weather. As the seasons change it becomes important to dust the soft furnishings of the house such as sofa, curtains and carpets, clean up the bathrooms and dust away areas which have not been frequented upon. This help clean up the house and provides welcome change as the seasons evolve.
When kids are allergic to dust
When kids are allergic to dust, it makes all the reason to clean up the house and remove dangerous allergens such as dust mites from the soft furnishings such as mattress, sofa and carpets. It makes sense to opt for the mattress cleaning services in addition to the sofa and carpet cleaning services provided by us. We have a specific 4 step process to take care of the allergens within the house. 
Coming back from a long break to your residence
With the extended lockdowns or even if you come back after a long vacation, the dust settles in the house. Especially when you are staying in areas of Bangalore. Then a team of dedicated professional deep cleaners will clean up the house while you are still relaxed after your vacation or you want to restart after the lockdown. Do check our post lockdown cleaning services for more details
Before moving into a newly constructed house
Once the interiors of the house are done there remains a lot of dust and dirt left by the interior designers, carpenters and the whole team. That is the best time to get Deep cleaning professionals so that you can get your dream house fresh and new.
Overall any time is a good time to opt for home deep cleaning services in Bangalore. This increases the value of the house and keeps the house neat and clean. You have us a well rated company with a well defined deep cleaning system in place to transform your house cleaned, healthy and in a very live able condition. Professional cleaning services provide you not only exacting standards of service, they do it in a short span of time without stressing the residents or customer. We save time, energy as leave the house cleaned and welcoming for you to stay and enjoy.
Get Cleaner, Healthier Homes With Clean Fanatics
Transform your space into a sparkling haven with the best professional cleaning services near you.